A HUGE thank you to all of my customers who purchased a Ribbon of Courage bundle in my online store from June 1 - 15!! 
As promised, I donated $5 for every bundle purchased from June 1 - 15, to the Making Strides against Breast Cancer Fundraiser that took place in Walnut Creek, on Saturday, June 17. 
I was able to donate $260 toward Roxanne's Team Hope!!!! whohooo!!
CLICK HERE for more info or you can download the flyer:
Download Ribbon of Courage donation flyer Patty Bennett
If you'd like to donate directly to the Making Strides Against Breast Cancer walk and to Roxanne's team,  click here to donate
I brought several of my Ribbon of Courage samples to our Luv 2 Stamp Group demonstrator meeting on the 17th .. here is a photo of the display table.  You can see more info about these projects by clicking HERE and scrolling through the blog posts.
It is my hope that you will use the Ribbon of Courage stamp set and framelits to create projects that will bless friends and family who are experiencing a difficult time with cancer or ANY disease.  Use it for a fundraiser event to raise awareness and donations for a cause of your choice. 
Or, see more ideas here in my video below!
Thank you for your kind words about this set. It is near and dear to my heart and I feel so blessed to have had a hand in designing it! :)
Click any product photo below to purchase that item on line.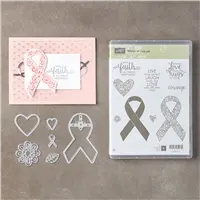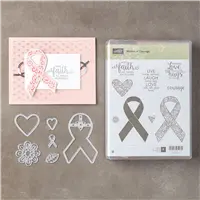 Shop Online Anytime and Earn FREE STAMPS
SHOP and SAVE: Clearance Rack -  Promotions
Sign Up for my Customer  Newsletter
Patty's FREE VIDEO tutorials